Book Your Repair
(Step 1 of 2)
Please use the form on this page to enter details about the repair you require.
Step 1 requires you to enter your return address details
Step 2 requires you to enter the details of the type of equipment you will be sending us for repair
Once you have completed the form and submitted it you will be given a reference number which you must quote when sending your remote to us.
If you need assistance booking your repair then please feel free to contact us on 07817 039435 or 0151 4308033 and we will be happy to help.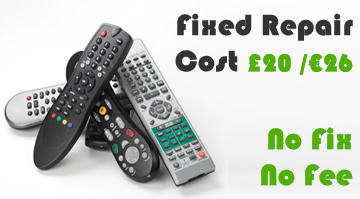 All repairs are NO FIX = NO FEE whereby if for any reason your item cant be repaired there is no charge exept the return postage if it is to be returned. Please see our prices page for the fixed shipping costs. Alternatively it can be scrapped and you will not be charged at all!
Your Return Details